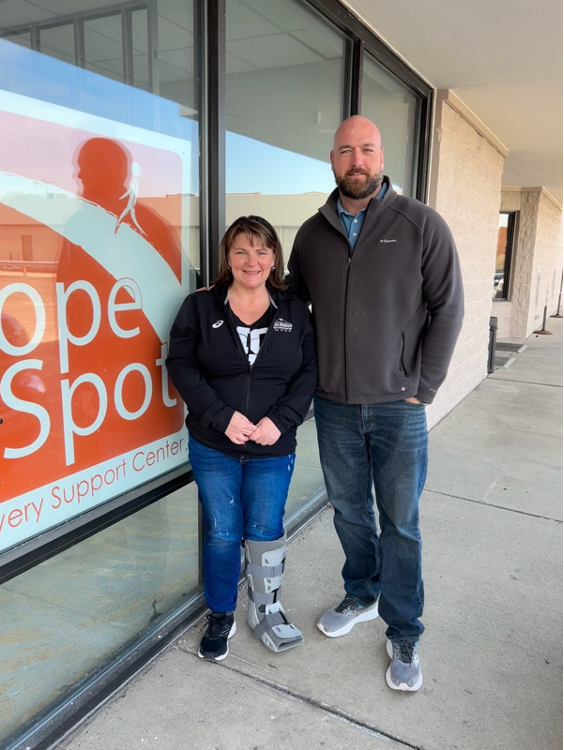 Hope Spot Founders Amy Pulver and Nate Crago stand in front of the community recovery organization's new location at 529 W. Second St., Xenia, which is expected to open later this spring, early summer.

World-renowned grief expert speaking at local conference in April
Emerge partners with Hope Spot to present grief conference
XENIA TOWNSHIP — One of the world's most renowned experts on grief will be conducting a professional grief conference for area residents in April.
Invited to the area by the Hope Spot of Greene County, Dr. Alan Wolfelt is one of the world's most renowned and respected grief educators and counselors. Wolfelt will present two separate grief events on Thursday, April 6, at the University of Dayton Marriott at 1414 S. Patterson Boulevard.
The first part is the professional seminar, which is called "The Art of Companioning the Mourner: Caring Vs. Curing." It will take place from 9 a.m. to 4 p.m. Cost is $125 and includes the lunch that will be provided. The second part of the conference is the community night, which is called "Tending to a Broken Heart When Someone Dies: Hope For Your Healing." It will take place from 6:30 p.m. to 8:30 p.m. and is free.
Although the event is a Hope Spot event — Emerge Recovery & Trade Initiative, Five Star Home Services and the Mental Health Recovery Board of Clark, Greene & Madison Counties are sponsors of the conference.
"Dr. Wolfelt is one of the most well-known and well-respected grief educators in the country," said Amy Pulver, executive director of the Hope Spot. "He has a loyal following and a very unique perspective. I am very passionate about grief education and grief support. In our field, grief is a major contributing factor to addiction. As a society, we don't normally know how to respond to grief even though everyone goes through it. We avoid it. It makes us uncomfortable. We often expect people to 'get over it' within a certain period of time."
Ms. Pulver said the event will provide continuing education credits for bereavement professionals, drug and alcohol treatment counselors, mental health specialists, clergy members, funeral directors, and embalmers.
"He is a really outstanding speaker," Ms. Pulver added. "He's all about the environment and energy. He has a good sense of humor, and he does a lot of validating. In the evening, we have a free community event for community members, and anyone touched by grief, suicide, and drug and alcohol addiction overdoses."
Ms. Pulver said Dr. Wolfelt is the founder of the "Center for Loss and Life Transition" in Ft. Collins Colorado. The upcoming event is the second grief conference the Hope Spot has organized.
"It can be hard to sell a grief conference — because it's grief," she said. "However, the response we got last year was overwhelmingly positive. Over the past decade, our region has been significantly impacted by overdose and suicide losses, leaving in its wake a trail of heartbreak and pain for those left behind."
After Ms. Pulver lost her husband and brother to fentanyl overdoses in 2014, she said she discovered how difficult it was for people to respond to her, especially considering the stigma surrounding their manner of death.
"I learned there was a lack of resources and education available to families and professionals," she said. "After discovering Dr. Wolfelt's books, I was compelled to act."
Organizers strongly encourage people to sign up soon and share information with friends and colleagues— as registration is limited to the first 250 people.
The cost for the professional seminar is $125 per person. Group discounts and partial sponsorships are available. For more information about Dr. Alan Wolfelt, go to www.centerforloss.com. If you have any questions, contact Hope Spot at: 937-352-6367 or thehopespot@outlook.com.
You can also sign up for the event at Caregivers & Professionals Conference: www.eventbrite.com/e/512078770387.
The Free Community Evening is at www.eventbrite.com/e/522922674797.
What is Emerge Recovery & Trade Initiative?
Located at the former Greene County Career Center on 48 acres of rural land, Emerge Recovery & Trade Initiative is the world's first vocational community for people in recovery and youth aging out of foster care. Once it is fully operational, Emerge will serve people from all over Ohio with 50 beds for men, 50 beds for women and 25 beds for youth aging out of foster care. The facility is located at 2960 W. Enon Road, Xenia; it will include a coffee shop, a fitness center, a diner, outdoor recreation, several state-certified trade schools, a call center, several community partners, plans for a restaurant with catering and much more. The blueprint for this first location will be self-sustaining and replicable; it has the potential to be a model in other parts of the nation where workforce issues are crippling companies.