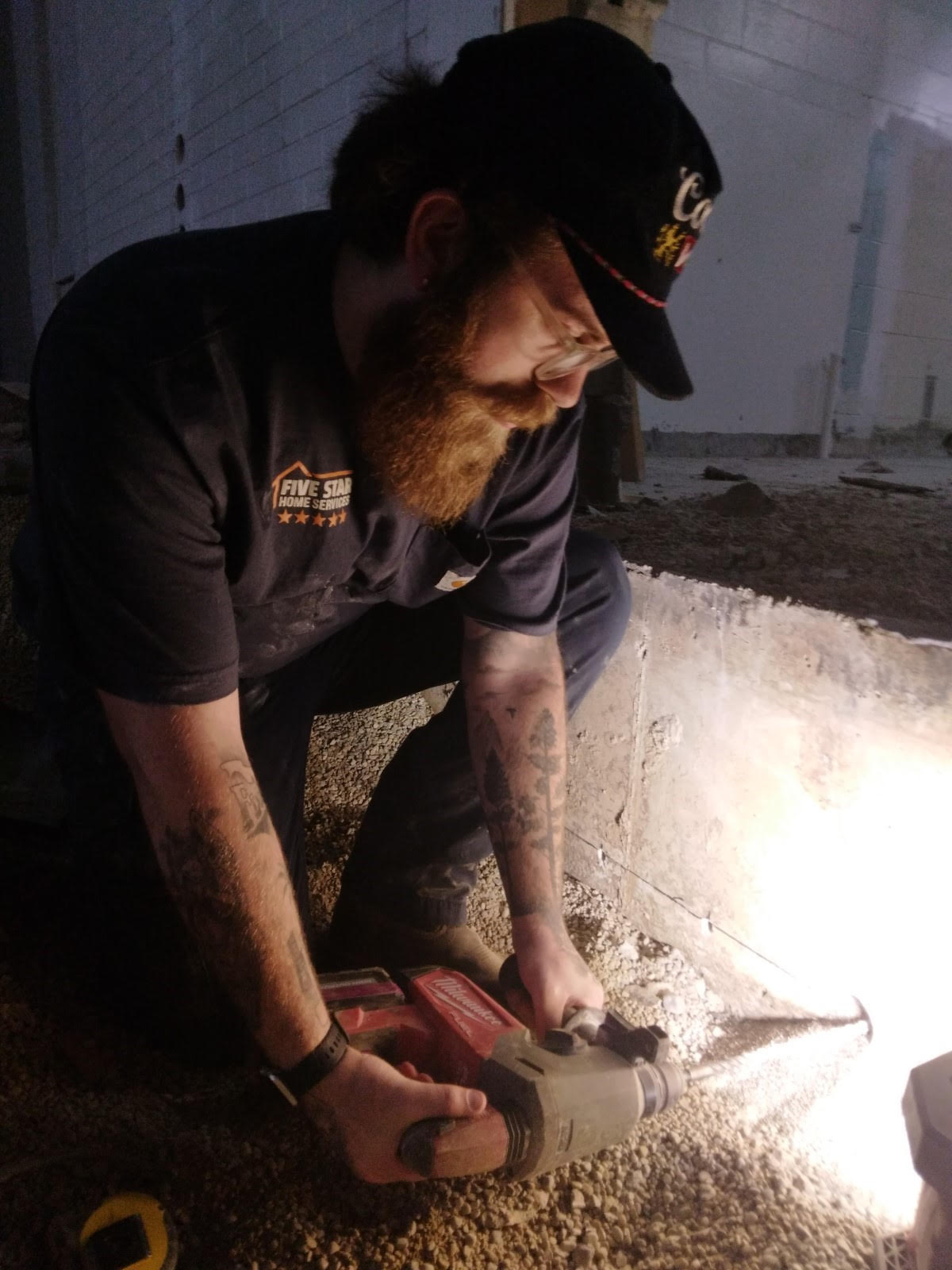 Five Star Home Services Plumber Walt Olinger drills a hole into a crawlspace at the men's recovery area at Emerge Recovery & Trade Initiative, 2960 W. Enon Road, Xenia, to install a water line. Renovations should take a couple more months as workers continue to make significant progress on the $1.5 million project. 
Emerge Awarded Grant to Improve Community
Shook Foundation awards several grants in 2022 
XENIA TOWNSHIP — As part of a vision to enrich their communities through engagement and investment, the Shook Foundation is awarding the Emerge Recovery & Trade Initiative a grant for $5,000. 
The Shook Foundation was launched in 2022 by Shook Construction of Dayton to further its mission and dramatically improve the communities they live in and serve. 
"The Shook Foundation is funded and operated by our own Shook employees," said Jaron Develbiss, project manager at Shook. "This is operated internally with no overhead. Every dollar contributed by our employees goes toward non-profit organizations and causes close to the hearts of the individuals at Shook." 
In May 2022, the foundation awarded its first grant to SAM Ministries in the amount of $4,200. That money went to funding one classroom of student furniture, desks and chairs for the Mucombeze-Interior Primary School in Mozambique, East Africa.  
Then, in June of 2022, the foundation awarded another four grants, which distributed $9,000 to local community organizations nominated by Shook employees. The Brian Muha Foundation was nominated for this grant by Shook employee Bill Whistler. 
Additionally, Emerge Recovery & Trade Initiative was the second 2022 grant award recipient. 
Located in Dayton, Ohio, Shook Construction Co. provides expertise that spans the construction industry in both size and scope. From moderate-sized renovations to full scale multi-million-dollar projects, Shook specializes in education buildings and healthcare and industrial facilities. The company also performs infrastructure projects on water and wastewater treatment plants.  
Shook is rated as one of the nation's "Top 400 Contractors" by Engineering News-Record. Overall, they have 250 employees who serve clients in 13 states. In addition to their offices in Dayton, they also have offices in Cleveland, Indianapolis, Ind., and Raleigh-Durham, N.C. 
"The Shook Foundation was first thought of back in 2022 as part of our strategic plan," Develbiss said. "We partnered with the Dayton Foundation in the formation of this to provide administrative oversight for our foundation." 
The Dayton Foundation will help the Shook Foundation with receiving and distributing funding.  
"We have the ability to make this as successful as we wish," Develbiss added. "The Shook Foundation has the potential to make a large impact. . . And this isn't just money. This is also about creating relationships and being able to support those folks in need by providing them with capital resources." 
Chris Halapy, president and CEO of Shook Construction, said the foundation is entirely employee-led.  
"Each of us, as employees, know if we choose to donate that a team of our employees would be leading the efforts and how those funds will be used," Halapy said. "It's another avenue to further our mission to dramatically improve the communities we serve. It's also an opportunity for our employees to lead and make meaningful use of the funds we raise. We want to make sure the funds are employed and applied to the places that are important to our employees and to the places where they could provide the greatest impact." 
Emerge Recovery & Trade Initiative's Director of Philanthropy, Elaine Bonner, said the funds will be applied to a $1.5 million capital project, the re-purposing of more than 10,000 square feet of space in the former Greene County Career Center, which is now Emerge for residential housing and programming for men in recovery.  
"With rising costs, this gift from the Shook Foundation is helping with our funding shortfall of $250,000," Bonner said. "This brings our project another step closer to completion." 
To follow Emerge's progress, please visit emergerecoverytrade.com or contact Elaine Bonner at 937.974.6120 
To donate to Emerge, click here! 
For more information about Emerge, to donate or get involved, go to https://www.emergerecoverytrade.com/