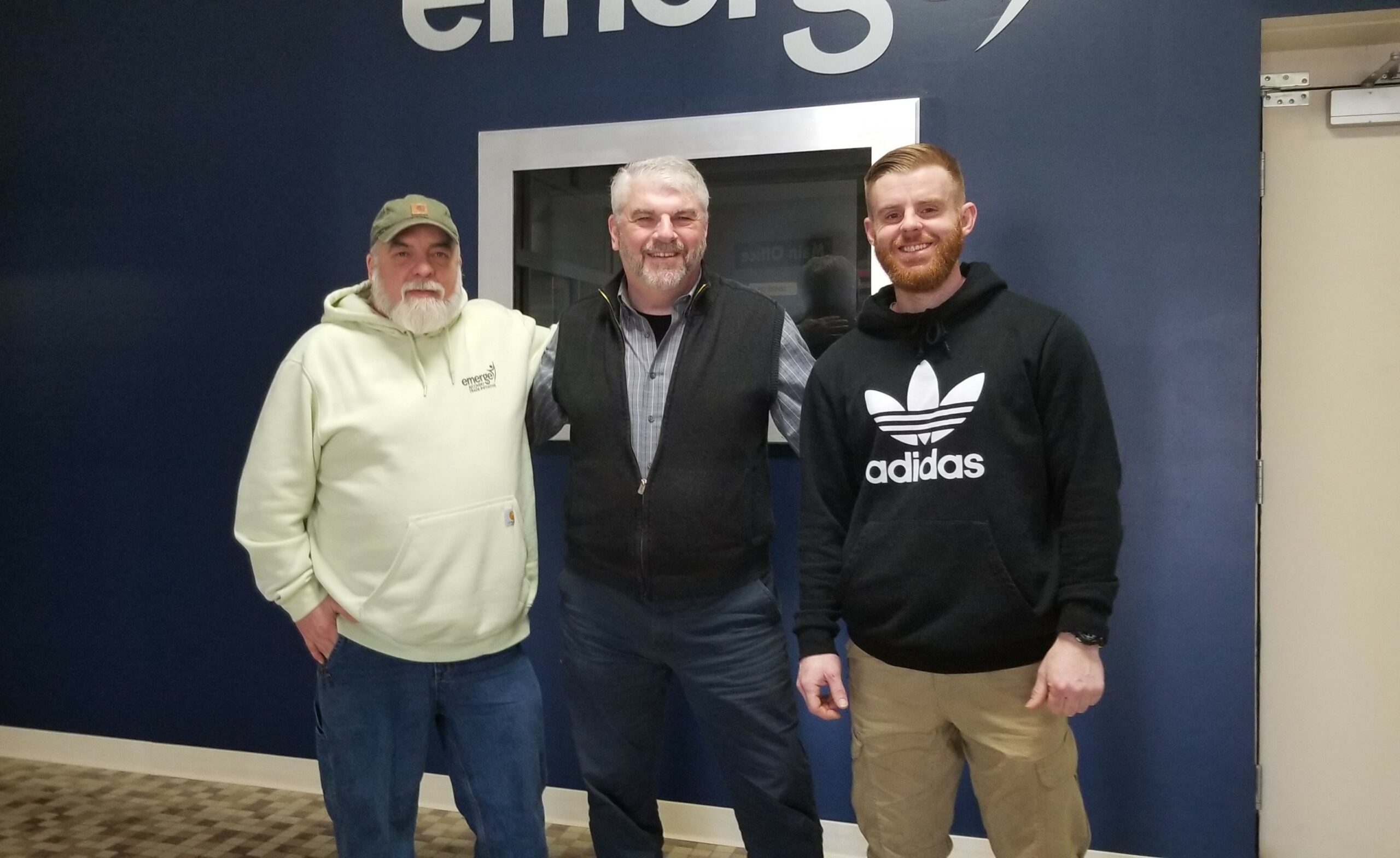 Emerge and Five Star Home Services join 'Be The Essential' campaign
XENIA — Because finding qualified employees willing to show up and work is so challenging for businesses right now, one area business leader and longtime broadcaster is launching a campaign to bring awareness to the situation, which he said is getting worse.
"We have two job positions open for every person looking for a job in this country right now," said Dan Edwards, a longtime radio and television anchor and reporter who is well-known throughout the Dayton area. "Some of my clients schedule 10 to 12 interviews and they're lucky to have one person physically come in for the interview, and that person is coming in to satisfy their unemployment requirements."
Edwards said the problem in the Greater Dayton area is a microcosm of a bigger issue throughout the nation. His company, Pivotal Media, helps area businesses tell the story they want to tell and find help. This summer, Edwards said he is excited to partner with Five Star Home Services and Emerge, which will be among the sponsors for the "Be The Essential Campaign," which is intended to bring awareness to the need for skilled workers in the trades and other essential jobs that aren't going away.
"I am always in contact with our clients," Edwards said. "Over and over, the first 30 minutes I spend with my clients I spend talking them off the ledge because they can't find workers. No one can find workers. Additionally, they can't retain people or get them to show up for an interview."
Edwards said it's a tough place to be in right now in the business world as employers struggle to find a workforce to keep things going. 
"Everyone needs workers," he said. "Businesses can't stay open because they need help so bad. The pandemic has changed the way people look at the workforce." As part of the "Be The Essential campaign," Pivotal Media is developing a platform for job development agencies and coalitions and workforce programs. The campaign is aimed at highlighting the classes and programs to reach the needed workforce in the 14-county Greater Dayton area.
"We are interested in helping people find life-sustaining jobs that are always secure no matter what," Edwards said. "We want people in a position that's vital to our society."
Current estimates indicate there are 37,000 unfulfilled jobs in the region. Depending on the campaign's success, it could be scaled to go statewide after this first pilot year.
"I am happy to be working with Emerge," Edwards said. "I am very impressed with the second chance employment model in place for over a decade by the three Founders of Emerge. Many area businesses can learn from these business leaders  who are truly impacting lives and families. Thank you Chris Adams, Narrow Path Plumbing, Kip Morris, Five Star Home Services and Doug Van Dyke, Van Martin Roofing for wanting to open up more opportunities through Emerge.
Edwards said July 27 is the soft launch of the campaign, which includes radio and TV. It will grow into all sorts of media platforms throughout the coming year, with television interviews with sponsors, including one expected to happen with Five Star Home Services CEO and Emerge co-founder Kip Morris.
"We aren't trying to re-invent the wheel," Edwards said. "We are going to evolve this over the year. You'll see some pretty creative things in our commercials. … If we do this and are able to increase the workforce, that money goes back into the economy and helps everyone. The old saying 'this country doesn't work, unless this country works' is something people need to remember. This is a social contract we sign. It is vital to the economy. And I have faith in this new generation."
Edwards said his company strives to be a champion for these small businesses suffering through the economic changes.
"My company walks in with solutions," he said. "I don't like seeing my clients' faces when they can't find help. All these small businesses are being drained and their future is going up in smoke. We want to be the champion for these small businesses. We came up with 'Be The Essential' — jobs that are needed no matter what."
Be The Essential highlights all the advantages of skilled trades jobs. "We want to hit radio, digital media, TV and more over the next year," Edwards said. "You won't be able to not see this."
Sponsors provide logos and a link for the campaign's landing page, which is betheessential.com .
"This will reach millions of people, who will be impacted by this message," Edwards said. "And I am so excited to get Kip on board. I'm impressed that he along with two other businessmen in the trades are stepping up to address the workforce needs in the skilled trades industry. Once the renovations at Emerge (the former Greene County Career Center) are completed, so many people who are in need of hope and healing will receive pathways to opportunities and good careers.  We need this type of leadership and that's what we hope this campaign does. We believe our brightest days for the Dayton area are ahead of us."
In addition to affordable training that can be done in a shorter period of time, Edwards said, the benefits of working in an essential trade are many. He said people going into trades are investing in their future and their family's future and they can do something that's rewarding, fulfilling and pays them well.
"Our company wants to put people into jobs they enjoy," he said. "People also want to do something that they feel means something. They care about the world and want to take care of it. We remind them that you have to have a job to impact these causes that you hold dear. If you don't have a work force that's putting tax money back into the base, with this generation retiring, it is going to put this country in dire straits."