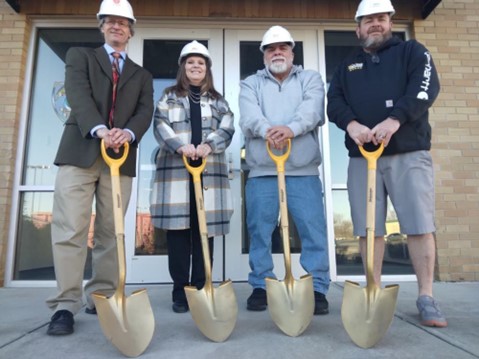 From left to right, Lead Architect Michael Huff stands with AKA Construction Owner Amy Gostomsky and Emerge Co-founders Kip Morris and Chris Adams.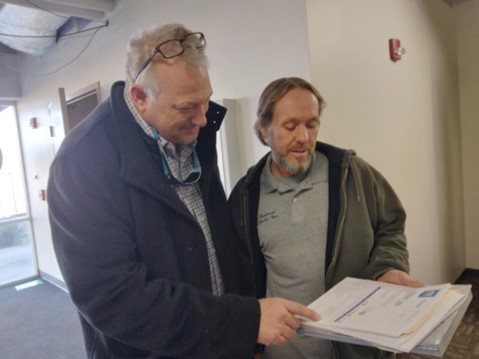 Emerge Co-founder Doug Van Dyke, left, reviews paperwork with the electrician, Rob Sanders, president of Universal Electric.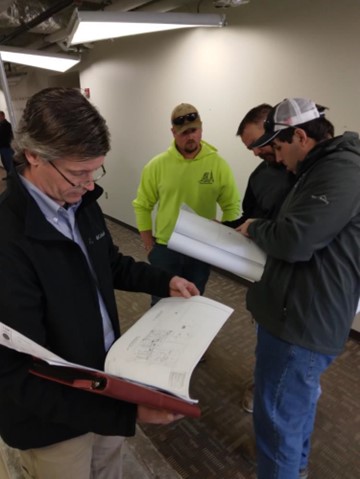 From left to right, Lead Architect Michael Huff reviews drawings in the men's recovery area while Chase Gostomsky, assistant superintendent, Mike Grooms, project superintendent, and Clay Aikman, project manager, review additional drawings and plans.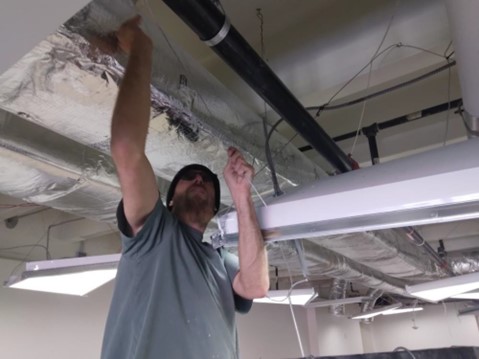 Mike Webb, an employee of Emerge, works in the men's recovery area of the campus.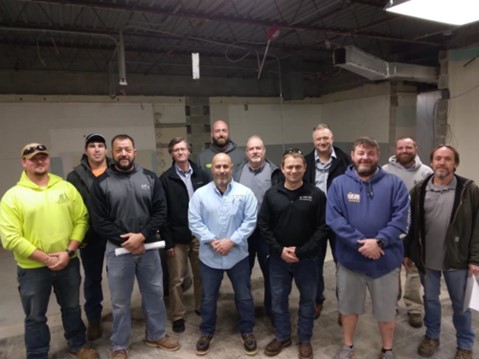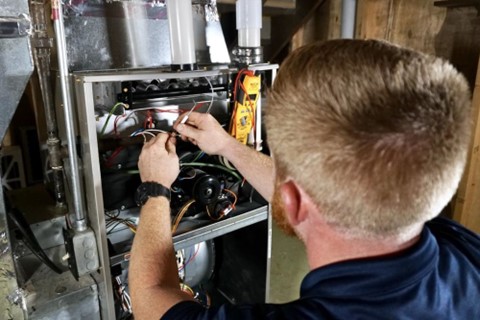 AKA Construction awarded $1 million bid to renovate Emerge facility
Renovations are underway to create a unique place of transformation
XENIA TOWNSHIP — Renovations are underway now at the former Greene County Career Center, where community leaders are transforming the campus into the nation's first full-scale vocational community for people in recovery and youth aging out of foster care.
Emerge Recovery & Trade Initiative is a nonprofit endeavor that will design personal, transformational, and vocational pathways for people seeking recovery and aging out of foster care. People completing this program will walk into their new lives in recovery with well-paying jobs and sustainable careers in the skilled trades industry, where their much-needed skills and state certifications will make them more employable than ever. Emerge will have the capacity to serve 50 men and 50 women in recovery and 40 youth aging out of foster care when fully operational.
Over the past few years, the drug epidemic in Ohio has been costing taxpayers billions of dollars. Additionally, the workforce in the skilled trade sector has also been steadily declining — with its greatest losses yet to come as thousands of baby boomers continue to retire every day. With a massive
workforce exodus known as the "Great Resignation" underway, Emerge aims to do something about both of these problems in a unique way and organizers say the place's success will have implications for the rest of the state, and perhaps even the nation.
A local, woman-owned construction company based out of Xenia was awarded the bid last week to perform the renovations during the coming months, as organizers aim to have the men's side of the program fully operational by early next year.
Emerge's board members voted to proceed with the buildout for the men's side using AKA Construction of Xenia. The cost for the project will come in at an estimated $1.49 million, which exceeds the $1 million federal grant amount awarded for the project earlier this year.
Emerge co-founder Chris Adams is overseeing the renovations. Adams is also the founder of Narrow Path Plumbing of Xenia, which is a member of the Five Star Home Services family. Five Star will be donating time and nearly $200,000 in plumbing materials towards the renovations. The company has been funneling a portion of its profits into the endeavor — with hundreds of employees also donating portions of their weekly earnings to see the vocational center off the ground. Five Star is currently one of the state's leading second-chance employers, with more than a hundred full-time employees working for the company at various stages of their recovery. The company offers residential and commercial plumbing, HVAC and electrical services throughout the Greater Dayton, Greater Columbus and Greater Cincinnati areas.
Because of the projected bid amount, Emerge will now need to raise an additional $300,000 to fund the
renovations for the men's side.
"The price of everything has gone up," said Elaine Bonner, director of philanthropy at Emerge. "We will
be looking to raise that money through a combination of ways – including donations from individuals,
local businesses, corporations and other avenues."
Amy Gostomsky is the owner of AKA Construction. She said the work will begin around the first week of December and the anticipated completion date is around the end of February of next year. Shortly after completion, Emerge will officially open its doors and organizers will work to get the women's side open.
AKA is a small women-owned commercial and industrial general construction company that was established in 1979.
"I took over the business after graduating in 1989 with a degree in construction management," Gostomsky said. "This project came at just the right time as other projects were being completed and I didn't have much of a backlog."
In addition to being a female-owned, small business, Gostomsky said AKA Construction is also an open shop general contractor with experience working on these types of facilities and similar types of properties.
"The primary focus of our projects in the past have been educational facilities," Gostomsky said. "Along with the educational facilities, we have worked with Greater Dayton RTA, the City of Dayton and Montgomery County."
Currently, organizers of this nonprofit mission are encouraging community members, business owners and community leaders to get involved, as the opening of the women's side and the official start of the emancipation program will very much depend on the level of community support and community involvement.
"We are looking for people who can become mentors and people who can volunteer, in addition to
individuals and organizations who are able to donate," said Kip Morris, co-founder of Emerge and CEO of Five Star Home Services. "We want to make this place an ecosystem of hope, healing and opportunity.
However, we need the support of our community. These young men and women need our help, and we need the support of our local community. We cannot do this alone."
For more information about Emerge, to donate or get involved, go to https://www.emergerecoverytrade.com/